this Friday night September 27th sees Eddie Izzard return to Brighton for 3 sell out nights at the Dome with his new stand up show 'Wunderbar'.
Hailed as the foremost stand up of his generation. Star of stage and screen. Tireless supporter of charity. Runner. Political campaigner. Fashion icon. Human. Eddie Izzard is all of these things and more.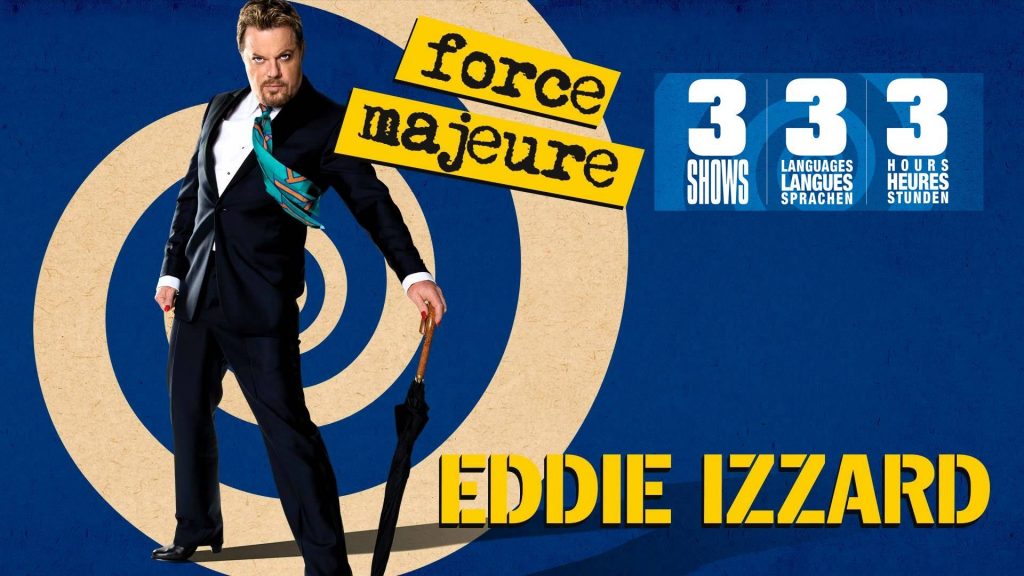 Five years after his last tour Force Majeure made comedy history (playing 45 countries, including all 50 US states and in four languages, making it the most extensive comedy show ever), Eddie Izzard is back to his roots with an all-new rather personal show which expands on his own very unique, totally surreal view of life, love, history and his "theory of the universe".
"It is getting close to the time when I have to go off for a while to have a political life. But before I do that, I want to keep giving audiences around the world the best stand-up comedy shows that I can – especially at a time of Brexit-hate and Trump-hate. My new show is about everything from humans over the last 100,000 years to talking dogs and animal superheroes. I am looking forward to coming to see everyone again."
WUNDERBAR is a delicious insight into the surreal and fantastical world of EDDIE IZZARD. This is intelligent Bunkum of the highest order.
Best-known for his surreal and digressive stand-up, British comedian and actor Eddie Izzard was born on February 7, 1962, in Aden, Yemen, where his English parents — Dorothy Ella, a nurse and midwife, and Harold John Izzard, an accountant — worked for British Petroleum.
We went to Northern Ireland and we were there until '67 and that was great. BP had a refinery in Belfast and we used to go down there and hammer away on the electric typewriters. That was space age stuff to me. There must have been underlying political stuff happening but I was totally oblivious to it. I was going to primary school and drinking these third-pints of milk and the biscuits you'd get at break times and just drawing pictures of our house, Mum, Dad and stuff, and being in a gang and throwing mud balls at passing cars. Everything was being built then and they were constantly building bungalows, so we used to climb all over the roofs of them and pour water in all the cement mixers so it would all harden.
So, yeah. Northern Ireland. I left in '67 and moved to South Wales, near Swansea – a place called Skewn. That was very different to the essential green and rain and running around Northern Ireland. I went back when I was 14. I said, 'I'm going to cycle from Sussex to Wales. I want to lose weight.' But my dad gave me some money and a Little Chef map, which was the worst map to give me. I cycled from Little Chef to Little Chef, eating the maple syrup and ice-cream and orange fruities at petrol stations and going to farms and saying, 'Can I sleep in your field?' They'd say, 'Yeah. Here's a bit of water,' and I'd get woken up by cows who were just looking into the tent scaring the shit out of me.
So I was six when I went off to boarding school. There was a four-year-old kid there I felt sorry for: he was still wetting the bed. I think that my child-like character that appears in my stand-up now was locked off at six. But my brother and I were both there, which was better than just one of us. It was down in Porthcawl, a place called St John's School. It's like a desert island. There's beaches down there: it's very duney. I actually went back there and played a street performing gig as part of a Labour Party get-together outdoor something or other. Porthcawl had this funfair and a whole lot of stuff I didn't even know about. There's a Butlinsy feel to it which I found quite surprising because I didn't remember that when I was there.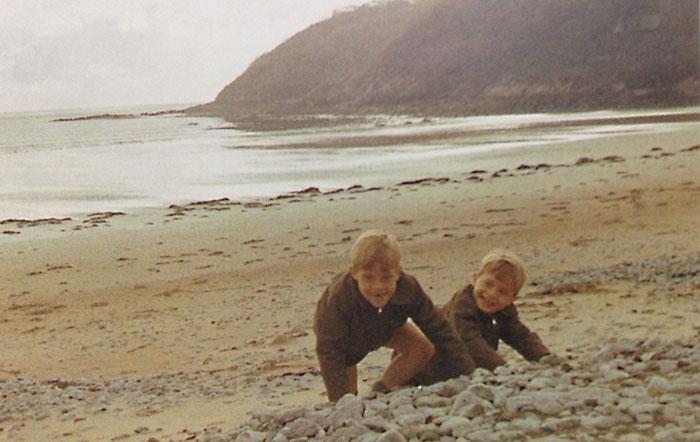 In 1969 we left Wales and went back to live in Bexhill. We went to school in Eastbourne – again, it was this boarding school thing. The first one was called St. Bede's, right at the foot of the South Downs. The Downs has steep banks with loads of bomb craters because the British planes coming back from missions would jettison their bombs on the Downs because they couldn't land with a bomb load, something like that, I don't know. We used to play in the craters.
I used to play a lot of football. At that time I lived for football. I just ran my arse off, playing left half and then right half. I was in the first team. I wasn't the best or the most gifted but I was good when the ball would go past our goalie and I'd be there to head it off the line. And when the guy was running ahead with the ball and he was bringing his foot back to kick it, I'd just put my foot in and knock it away from him. I'd do those things. I couldn't kick the ball in the goal to save my life. I was scared of getting up there in case I tried and missed in an open-goal situation and then everyone would kill me. So I just used to do the good pass for someone else to knock it in. They used to read out the names of the people in the first team in school assembly on match day – 'OK, get your kit and off you go' – and you'd stand up and walk out. It was great. I loved that.
But the second school in Eastbourne didn't fucking play football. What a crap decision. They played rugby, hockey and cricket and in the sixth form you were given an option of doing football. It was treated like pottery or martial arts. So I gave up on sport really. I thought it was stupid not playing football. My brother had already gone to the school, so I knew about it. You accept it.
Izzard worked as a street performer and in smaller comedy venues throughout the mid-to-late 1980s; his big break came when he appeared in Hysteria III, a 1991 AIDS fundraiser held at the London Palladium, and did his now-famous "Raised by wolves" sketch. After that, he drew bigger and bigger audiences, and in 1993 hired the Ambassadors Theatre in London's West End for the first of many successful one-man shows. With Eddie Izzard: Live at the Ambassadors (1993), he was nominated for a Laurence Olivier Award (outstanding achievement) and won his first British Comedy Award for top stand-up comedian. He returned to the West End the next year with his second one-man show, Eddie Izzard: Unrepeatable (1994), and soon thereafter made his West End debut in a drama, as the lead in the world premiere of David Mamet's "The Cryptogram" with Lindsay Duncan; his success led to his second starring role, in "900 Oneonta".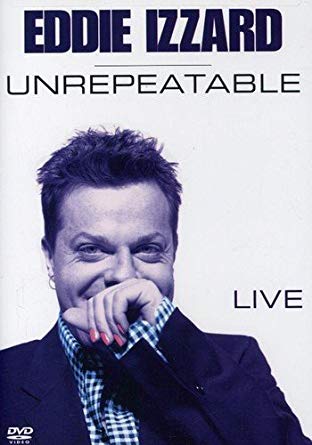 Izzard appeared in 1995 as the title character in Christopher Marlowe's groundbreaking "Edward II". In 1996, he made his big-screen debut alongside Bob Hoskins and Robin Williams in The Secret Agent (1996); he also staged another one-man show, Eddie Izzard: Definite Article (1996), for which he received his second British Comedy Award. He then took "Definite Article" to major cities outside the UK, including New York, and returned to the West End with a new show, Eddie Izzard: Glorious (1997), which included a month in New York City at PS122.
In 1998, Izzard appeared in another film, Velvet Goldmine (1998), with Ewan McGregor, and also staged his breakthrough one-man U.S. show, Eddie Izzard: Dress to Kill (1999) which aired on HBO and earned Izzard two Emmy Awards. Izzard next took on the challenge of appearing as Lenny Bruce in Peter Hall's West End production of "Lenny."
Izzard started 2000 touring the world with Eddie Izzard: Circle (2002) and continued to act in films, among them The Criminal (1999); Shadow of the Vampire (2000) with John Malkovich and Willem Dafoe; and Peter Bogdanovich's The Cat's Meow (2001), in which he played Charles Chaplin. He returned to the stage, in London and later in New York (his Broadway debut), with A Day in the Death of Joe Egg (2002), a version of which was televised.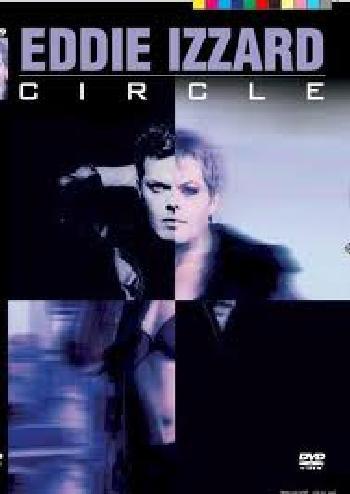 In 2003, Izzard was seen on the big screen in Alex Cox's Revengers Tragedy (2002) and on the small screen in a BBC mini-series _40 (2002)(TV)_. His other films include The Avengers (1998), Ocean's Twelve (2004), My Super Ex-Girlfriend (2006), Ocean's Thirteen (2007) and Valkyrie (2008), and he has voiced roles in a handful of movies, including The Wild (2006), The Chronicles of Narnia: Prince Caspian (2008) and Cars 2(2011).
In February of 2016, Eddie embarked on an attempt to run 27 marathons in 27 days through South Africa, as a salute to Nelson Mandela who spent 27 years of his life in prison in his fight against Apartheid.
Throughout these marathons, Eddie visited communities, organisations and families that have all been helped by the work of Sport Relief.
The route he ran traced the story of Nelson Mandela's life; starting from his birthplace of Mvezo, before journeying on through the Eastern Cape to the school and university that he attended, then on to Cape Town and Robben Island where he was imprisoned for 18 of his 27 years.
Eddie had to run a double marathon on the 27th day (as he had spent day 5 in hospital) to complete his final marathon and arrive at the huge statue of Nelson Mandela at The Union Buildings in Pretoria – the place where in 1994, Nelson Mandela had become the first ever democratically elected President of South Africa.