As you know when you visit our lovely seaside city of Brighton and you come & sleep with us we always like to highlight something nice and maybe a bit different for you to do. Whatever time of year, whatever the weather (although preferably on a clear sunny day) we thoroughly recommend a stroll or a ride along the Undercliff Walk.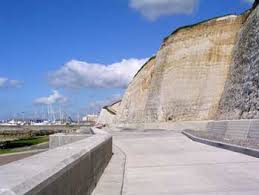 The Undercliff Walk runs from behind Asda in Brighton Marina (which takes about 15 minutes to walk to from Snooze) to the Brighton & Hove City boundary at Saltdean marked by the last rock groyne. The path is just over 5 kms long & both pedestrians and cyclists can use it. I've cycled myself using the brilliant Brighton Bike Share Scheme (see previous blog) and from the Marina if you go right to the end it should take around 30 minutes.
Pedestrians and cyclists should be aware that the Undercliff Walk is part of the City's coast defences, it protects the cliffs from erosion. Waves will occasionally come over the seawall during high tides and stormy weather, and falls of chalk and flint can occur from time to time.
On the walk you will pass through Rottingdean and end up at Saltdean beach. Near the end is Whitecliffs cafe which has been around for what seems like an age, very popular with tourists and locals alike, but it has some intriguing secrets, both in its past and present.
There are many reasons it's so popular, but one of the main ones is obviously it's location. It's situated near the end of the now quite famous undercliff walk in front of Saltdean park. This alone attracts many visitors, but being able to take a break and relax taking in the beautiful views of the chalky white cliffs and the sea view while having a meal or drinks is definitely a bonus.
This place used to be called Smugglers Haunt 2 back in the 1930's when it was an Art Deco building before it was refurbished and reopened to how we know it today – a popular cafe by day, a romantic restaurant by night but also a venue for hire. You can see it in the rare pic below in the middle with the flag on top.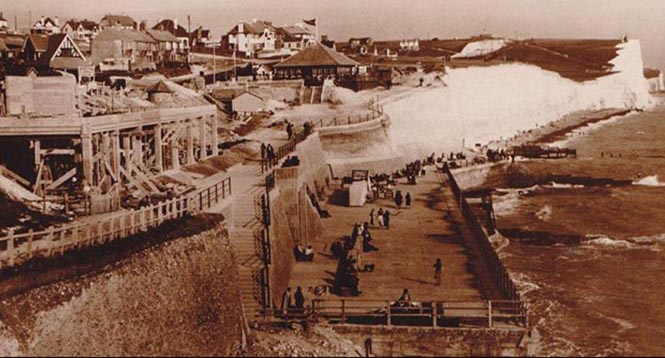 The place itself is built into the cliff making it quite unique but it's past just adds to it. The whole area was once a haunt for smugglers bringing in cargo from Spain and the mediterranean, but the cafe itself was built around 1925 and was originally called "The Tea Pavillion" before it was named after it's slightly disreputable past. Nowadays though, it's a modern place that has many uses. It's also a venue for hire outside of its usual opening hours and has been used by local businesses for networking events as well as parties and weddings.
This is just one highlight of the lovely walk where you are just far enough away from the hustle and bustle of Brighton's town centre to get that great feeling of escapism without having to go too far! Saltdean beach itself is ever popular for other runners who use the undercliff walk as part of their fitness regime, and you can see why as the views are beautiful and uninterrupted all year round.