The Komedia in Brighton is more than a venue it's an institution and without doubt one of our most favourite venues in our lovely seaside city, for Comedy, live music and club nights. A place that should always be on your agenda when you come and sleep with us and this year, Komedia celebrates it's 25th Birthday!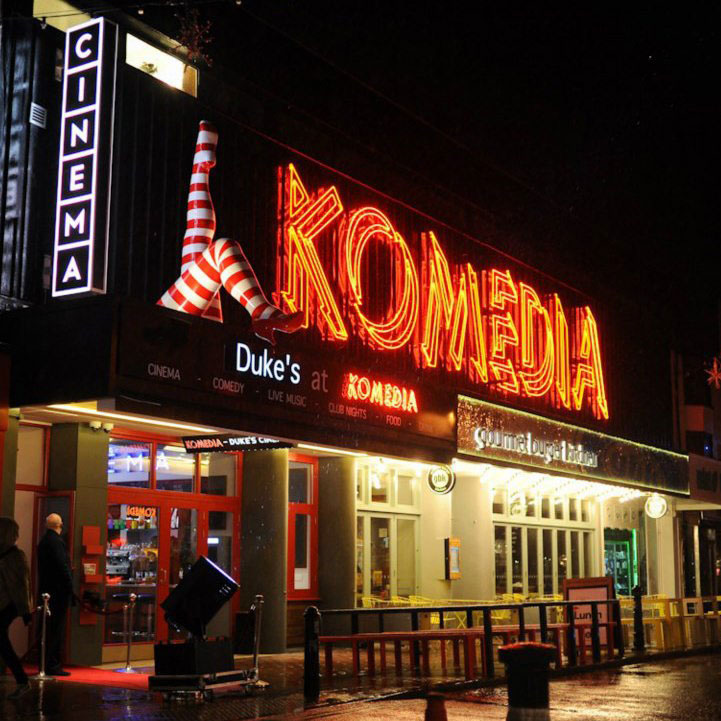 On May 1st 1994, the directors of Umbrella Theatre, Colin Granger, Marina Kobler, and David Lavender, opened a new venue called Komedia, in a converted former billiard hall in Kemptown (also previously a spiritualist chapel and a bus driver's social club) They modelled the venue on the cabaret theatres they had seen while touring with Umbrella in cities such as Copenhagen, Amsterdam and Berlin; small informal welcoming venues that offered people from all walks of life a place to enjoy comedy, cabaret, and music whilst having a meal and a drink. There were no venues like these in the UK in the early nineties and Colin, Marina, and David wanted Komedia to be the first. From the very beginning, Komedia's cabaret theatre format was a huge success both with audiences and performers and in the venue's first season brilliant new talent such as Graham Norton, Al Murray, Mel and Sue and Omid Djalili were the first to step on its stage.
Komedia soon flourished and in 1998, due to their popularity, Granger and his Co-Directors Marina Kobler and David Lavender began hunting for larger premises, finding it at Jubilee Shopping Hall (a former Tesco supermarket) on Gardner Street. Whilst searching for ways to fund the move, an unintentional meeting with the UK CEO of Dutch social bank Triodos, who had an affinity with the Komedia vision, led to an agreement to buy the building. Beginning with just a theatre space upstairs, the larger venue quickly attracted established acts.
The now infamous Krater Comedy Club was born in June 1999 after the 'crater like' basement area was transformed into a cabaret space, with the event being hosted by the brilliant MC Stephen Grant. The night was quickly a hit, with sell out shows from only the second event. Over the years Krater has seen all the big names in comedy including Michael McIntyre, Jack Whitehall, Dara O'Briain, Sarah Millican, Micky Flanagan, Milton Jones, Stephen Merchant, Russell Howard, Alan Carr, Greg Davies, Rufus Hound, Danny Bhoy, Rhod Gilbert, Rhys Darby, Bill Bailey and more. Fast forward to present day and there have been over 4,000 Krater Comedy Club shows making it one of the most popular and longest running comedy clubs in the South of England.
The now larger venue quickly attracted established and up-and-coming comedy and music acts such as; Catherine Tate, Stewart Lee, Ross Noble, Harry Hill, The Mighty Boosh, Johnny Vegas, Dave Gorman, Flight of the Conchords, Jimmy Carr, KT Tunstall, The XX, Kate Nash, Anna Calvi, Ghostpoet, Bonobo, The Magic Numbers, Bat for Lashes, Foals, Mumford and Sons, Idles and even Sia.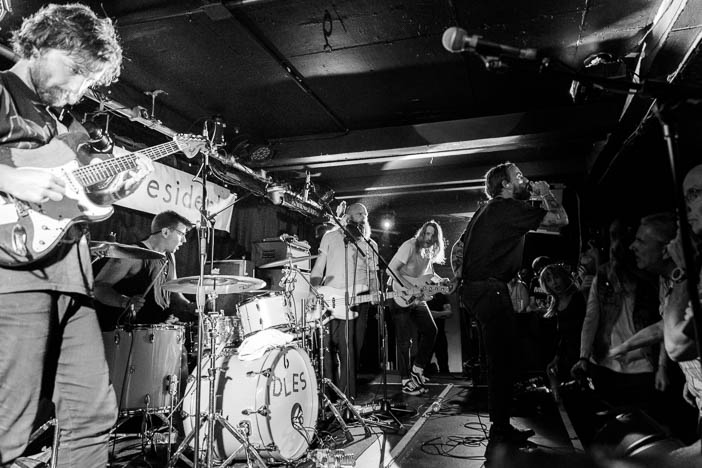 For ten years, between 1999 and 2008, Komedia was active at the Edinburgh Fringe Festival, running a number of venues and promoting their own acts. They also co-founded and managed the multi-award winning Aurora Nova festival, a cosmopolitan showcase of imaginative, eclectic and original theatre and dance from around the world, which ran for five years at St. Stephens. Sister company Komedia Entertainment was founded in the year 2000 when Richard Daws, formerly of Victoria Real, joined Komedia. Komedia Entertainment manages and produces new comedy acts and promoted Count Arthur Strong's shows at the Edinburgh Fringe as well as developing and co-producing the award winning Count Arthur Strong's Radio Show. Komedia also co-produces the hit BBC1 TV sitcom Count Arthur Strong.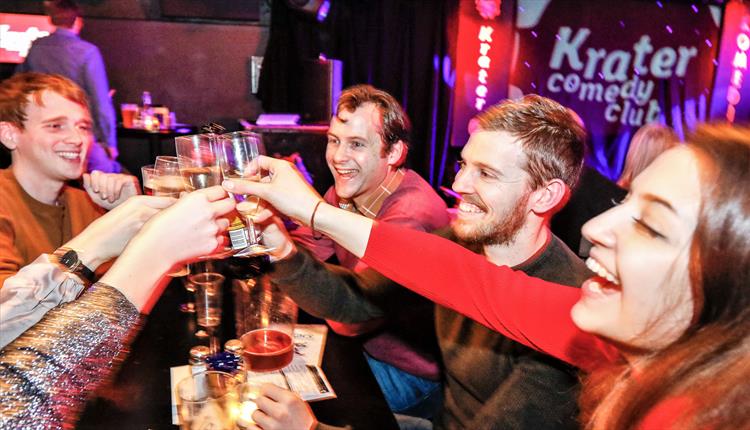 In 2008 Komedia expanded, opening a second venue in the impressive Grade l listed former Beau Nash cinema in Bath. Following an award winning restoration the new venue quickly became recognised as one of the most important mid-scale venues for comedy, music, cabaret and club nights in the West of England. In the same year Komedia Brighton, along with many other arts venues across the country, was hit with Arts Council Funding cuts along with the recession. This lead to a streamlining of operations and a search for new business partners, resulting in Picturehouse Cinemas opening Dukes at Komedia in the former theatre space upstairs in 2012. This also led to the refurbishment and upgrade of the basement space with old equipment being donated to The Warren, The Marlborough and Ropetackle in Shoreham.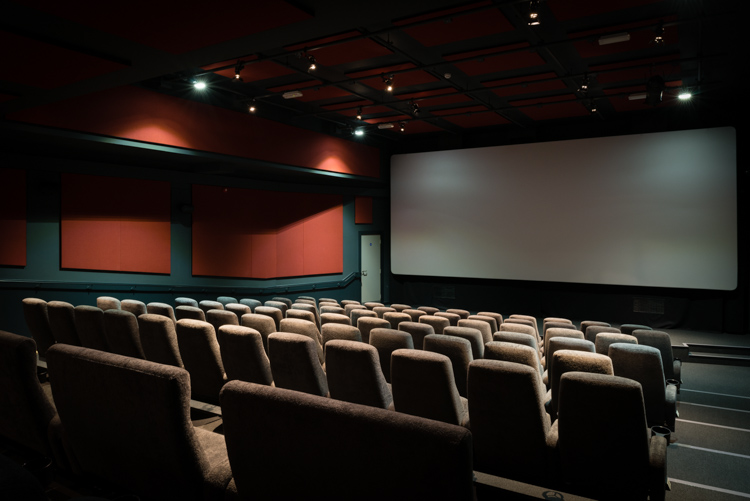 Over the years, when other UK arts centres were closing because of cuts in public funding and the recession, Colin, Marina and David knew that for Komedia to remain independent and in control of its own destiny, the venue had to be self-sufficient and sustainable. They developed a business model where highly successful, profitable, regular shows such as the Krater Comedy Club, cross-subsidised the work of up-and-coming artists, spoken world and children's events.Today, Colin, Marina and David are proud that with the help of the venue's incredibly loyal and talented staff and management team that Komedia continues to thrive and programme an amazingly varied range of entertainment, as they say 'Our aim when we opened Komedia in May 1994 was to create an independent and self-supporting venue that offers a wide choice of live entertainment, good service, and welcomes people from all walks of life. 25 years later, we are proud that with the help of all our staff this aim has been achieved, and that Komedia will continue to have this vision at its heart – let the good times roll!"
We too have our own celebration happening next month and one that also takes place at this wonderful venue. Saturday 14th September is the 2nd year birthday of our own regular night that we host, The Viva Soul Club. A super hot, all vinyl Soul, Funk & Disco session. Always a wicked party & such a lovely vibe in a great room with brilliant sound! So if you're free come and get down with us xx