When visiting our lovely seaside city one of the best ways to travel around Brighton & Hove healthily, sustainably and cheaply is by using the city's smart bike share scheme, BTN BikeShare! The fun and easy-to-use public transport scheme is the first in the UK to combine docking stations and dock-less locking technology https://www.btnbikeshare.com
Residents and visitors can register, hire and locate the scheme's 'Life Bikes' via the Social Bicycles (SoBi) App. The pay as you go rental plan – 'Easy Rider' – costs 3p per minute (min spend £1) and is ideal for occasional riders. More frequent users may prefer the 'Annual Rider' plan which provides an hour of cycling, every day, for £72 for the year.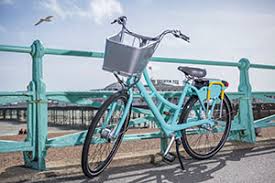 You can find and lock Life Bikes at official docking stations along the seafront – from Hove Lawns to near the Brighton Marina, as well as inland as far as the university campuses. For further flexibility, riders can also pick-up and leave Life Bikes outside docking areas at public cycle parking locations for a small fee of £2. As a small thank you, users will earn £1 account credit each time they take a bike that's been locked outside of a docking area.
In order for this scheme to be put in place The Brighton & Hove bike share feasibility work was first undertaken in 2009, revisited in 2014 and then the scheme was given the go-ahead in November 2015, following full funding approval. Infrastructure and start-up costs for the scheme was £1.45 million. £1.16 million funded by Coast to Capital Local Enterprise Partnership and £290,000 funded by Brighton & Hove City Council. Popular sites in the city, including the seafront and Brighton Station, were suggested as potential hubs with the scheme area extending along the A27 corridor and the University of Sussex and Brighton University campus sites at Falmer. Informal consultation on the hubs affecting street parking was carried out with residents, businesses and councillors in the direct vicinity of the sites from August to December 2016, it was then successfully launched in September 2017.
So how does it all work? Well it couldn't be easier simply choose your plan and sign up for a BTN BikeShare membership through the website or mobile app. Then once you've done that enter your mobile number or account number and 4-digit PIN into the keypad on the back of the bike to unlock it. Place the U-lock in the holster before you get going. To make a quick stop, press the "HOLD" button and lock the bike to a rack. To end your ride, lock the bike to any BTN BikeShare Hub. If the hub is full,. you may lock the bike to nearby public bike parking
Whether you're a Brighton local, a day tripper, or showing friends around our beautiful city, you can also enjoy some trail or 'Rider Experiences' which have something for everybody. As well as taking in the lovely seafront sights you can follow a cultural trail and even an ethical business trail! Check them out here https://www.riderexperiences.com
So next time you visit just go grab a BTN BikeShare bike, a really great way to discover Brighton & Hove!