When you come and sleep with us we want to recommend to you some things to see and do in our lovely seaside City. So we've got a brilliantly imaginative category on out Blog page called 'Places and Spaces' ;)))
One such place you really should check out, if you've not before, is the The Royal Pavilion also known as Brighton Pavilion a truly iconic landmark & place of interest here in Brighton. Now owned by Brighton & Hove City Council, the purchase of The Royal Pavilion from Queen Victoria by the City, marked the beginning of the site's attraction as a tourist destination. It has been changed from private residence to a public attraction under civic ownership. Today it's visited by around 400,000 people every year.
The Royal Pavilion is also licensed as a venue for Weddings & son March 2014, it was to host one of a number of the first legal same-sex marriages to take place in the UK .
So to the history of the place & now it came to be. In the mid 1780s George, Prince of Wales, rented a small lodging house overlooking a fashionable promenade in Brighton. Brighton was developing from a decayed fishing town to an established seaside retreat for the rich and famous, being close to London. It also proved popular for the therapeutic health-giving sea water remedies made famous by Dr Richard Russell, a physician from nearby Lewes. Brighton suited George who was a vain and extravagant man with a passion for fashion, the arts, architecture and good living. He rebelled against his strict upbringing and threw himself into a life of drinking, womanising and gambling. This decadent lifestyle combined with his love of architecture and the fine and decorative arts – his residences in London and Windsor were like immaculate sets to show off his superb collections – resulted in his incurring heavy personal debts. In 1787, after much pleading and many promises by the Prince of Wales, the House of Commons agreed to clear his debts and increase his income.
The prince had been advised by his physicians to benefit from Brighton's fortunate climate and to try out the sea water treatments, which included 'dipping' (total body immersion into the salt sea water).
George hired architect Henry Holland to transform his Brighton lodging house into a modest villa which became known as the Marine Pavilion. With his love of visual arts and fascination with the mythical orient, George set about lavishly furnishing and decorating his seaside home. He especially chose Chinese export furniture and objects, and hand-painted Chinese wallpapers.
In 1811 George was sworn in as Prince Regent because his father, George III, had been deemed incapable of acting as monarch. At that time the Marine Pavilion was a modest building in size, not suitable for the large social events and entertaining that George loved to host. In 1815, George commissioned John Nash to begin the transformation from modest villa into the magnificent oriental palace that we see today. In 1808 the new stable complex was completed with an impressive lead and glass-domed roof, providing stabling for 62 horses. George was determined that the palace should be the ultimate in comfort and convenience.Particular attention was paid by his architect and designers to lighting, heating and sanitation, as well as to the provision of the most modern equipment of the day for the Great Kitchen.
George became king in 1820. However, due to increased responsibilities and ill-health, once the interior of the Royal Pavilion was finally finished in 1823 he made only two further visits (in 1824 and 1827). On his death in 1830, George was succeeded by his younger brother, William IV. When King William IV died in 1837 he was succeeded on the throne by his niece Victoria. Queen Victoria made her first visit to the Royal Pavilion in 1837 and this gesture of royal approval thrilled the people of Brighton.
As her family grew and the Royal Pavilion failed to provide her with the space and privacy she needed, she finally sold her uncle's pleasure palace to the town of Brighton for over £50,000 in 1850. As it was thought the building would be demolished, she ordered the building to be stripped of all its interior decorations, fittings and furnishings, for use in other royal homes.
Brighton continued to prosper in the mid 19th century and the opening of the new London to Brighton railway marked the beginning of mass tourism. It wasn't always a tourist venue, as during World War I the Royal Pavilion was used as a hospital for Indian soldiers. As a result the interiors were altered, sometimes damaged, and inevitably neglected.
Then after a break during World War II, restoration work began again in earnest with the revival of interest in the Regency era. To ensure that the work was carried out as accurately as possible, every piece of available evidence was examined – from original fragments, drawings and prints to archives and accounts.
The programme of restoration has had occasional setbacks. An arson attack in 1975 badly damaged the Music Room which was then closed for 11 years. Then, in the great storm of 1987, a ball of stone was dislodged from a minaret and fell through the newly restored coving, burying itself in the new carpet. The Royal Pavilion's conservation team got to work again and the Music Room is now fully restored.
Today the Royal Pavilion is a living testament to George IV's Regency dream. It was a major influence on Brighton's growth and prosperity during the 19th century and is inextricably linked with the modern and vibrant city of Brighton today.

In the grounds, The Royal Pavilion Gardens have a wide variety of plants having been restored to Nash's original Regency vision. It's said to be the only fully restored Regency Garden in the UK & when the weather's good used by street entertainers and plenty of locals & visitors.
A visit to the Royal Pavilion is a unique experience for all the family. Children living in Brighton & Hove can visit the Pavilion all year round absolutely free, with adults enjoying half-price admission. For non residents you can find out about prices and offers here https://brightonmuseums.org.uk/royalpavilion/
Opening Times as follows: October to March: 10am-5.15pm (last tickets at 4.30pm) April to September: 9.30am-5.45pm (last tickets at 5pm)
Closed 24 Dec (from 2.30pm), 25 & 26 Dec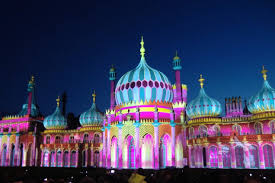 If you stay with us in the Winter season a lovely thing to do is go to the Pavilion Ice rink it's particularly stunning if you visit in the evening. This attraction has been operating every year since 2010 and has now welcomed over a million people since it opened. Find out more here https://royalpavilionicerink.co.uk/about/