With the Brighton Fringe Festival in full swing we just had to write about our favourite festival venue 'The Warren'.
The Warren is a multi-venue festival hub designed, curated and managed by Brighton's favourite production team, Otherplace Brighton.

This year its more central, and it will be so much easier for you to stroll up from the beach or after your shopping in The Lanes and North Laine.
For Brighton Fringe 2019 The Warren 'Festival-within-a-Festival' can be found at Victoria Gardens. Housing six theatres, Festival Bar, Container Bar with rooftop terrace, delicious food stalls and family area The Den, The Warren is the only place to be throughout May. New for 2019 is bespoke area The Scrapyard which creates a hub for artists and audiences. It will also host the legendary Fringe Club: A Silent Disco. After moving this year its just so easy to wander over to and whether you just fancy taking in the festival atmosphere and having a few beers or dipping into one of the great shows that are part of the fringe you really should get down there!
Over 32 days, the Warrens 6 venues stage over 1000 performances, varying from cabaret and circus, to comedy, dance, film, music, theatre, workshops – and everything in between!
The Warren this year is bigger and better than ever, here are a couple of their fabulous venues that will stage some of those fringe performances. The centrepiece of The Warren site is 'The Hat', a 250-seat theatre tent in the shape of a bowler hat, perfect for mid to large scale shows.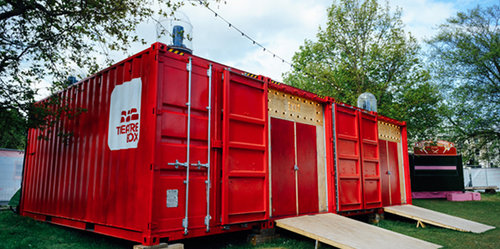 The Theatre Box is a bespoke 70 seat black box end-on venue, ideal for theatre with minimal set, music, and particularly solo or sketch comedy.
Artistic Director, Nicola Haydn said: "We're really pleased to have inched closer to the heart of the city. Victoria Gardens offers more space for us to play with and we have some exciting plans in the pipeline that will make The Warren 2019 even bigger, better and more exciting for our audiences. Otherplace has built up a strong following over our fourteen years in the city and we're looking forward to welcoming old friends and new faces as we embark on a new chapter."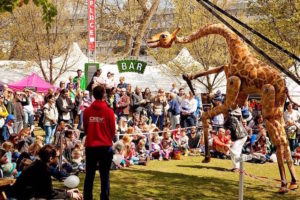 The site itself is free to enter, and it does a lot more than host shows: we also have a festival bar, a rooftop bar, a coffee shop, food stands and a kids' area. Open from 9am, we are here for you if you need that last-minute cup of coffee. The site also has several box office windows as you enter so you can easily see whats on that evening and buy last minute venue tickets for any of the shows that aren't sold out.
For more information: https://www.otherplacebrighton.co.uk